Inspection 2012: consultation document

Ofsted

This document from Ofsted shares the proposals for changes to the inspection regime for schools to be introduced from January 2012. It is a consultation document and not yet formal policy, but provides clear pointers as to how things are being considered.
Young Person's Guide to Inspection 2012

Ofsted

Written for younger audiences this is a guide to the proposed school inspection changes currently being considered by Ofsted for 2012 onwards. It is a useful quick read for adults to get the overview but could also be useful as a resource for working with secondary pupils in particular.
What parents want

Think Global: The Development Education Association

A new 16 page report presenting the findings from a YouGov survey of parents' attitudes towards their children's education. The results show that parents of schoolage children think it is vital that schools teach about the wider world.
Global Learning Evidence Briefing May 2011

Think Global: The Development Education Association

In this briefing Think Global summarises available evidence for the impact of global learning and on the unmet demand for learning about the wider world in school. The briefing references recent research including from the Geographical Association, Ofsted and the CBI amongst others.
Mapping the reach and output of DEC's in England

Consortium of DECs and Think Global

This report summarises the findings of a recent mapping of the activity of Development Education Centres across England, conducted by the Consortium of Development Education Centres with the support of Think Global. .
ESD: an expert review of processes and learning

A research report for UNESCO DESD

This very informative report by Prof Daniella Tilbury was commissioned as a contribution to the UNESCO Decade of Education for Sustainable Development (2005-2014). It is the result of a comprehensive review to identify which commonly accepted learning processes are aligned with ESD and should be promoted through ESD-related programmes and activities. It also examined which learning opportunities contribute to sustainable development.
Food waste in schools

A research report from WRAP

A new report sharing the findings of a research project that set out to better understand the nature and types of food waste in schools; the reasons why food is wasted in schools and the impact of interventions developed to help schools to reduce this waste. This link (left) is to the summary report, but within this you will find a link to the full report.
YouthXchange Guidebook: Climate Change and Lifestyles

Communications leaflet for forthcoming UNESCO/UNEP publication

A new guidebook to support young people (15-24) and those working with young people to explore aspects of climate change lifestyles. Organised into clear sections with case studies of youth action this guidebook is the first in a series of new YouthXchange guides. Find out more in this communications leaflet.
Every School A Food-Growing School

The Children's Food Campaign (Nov 2010)

A short report produced by a broad consortium of partners that raises awarness of the value of children being involved in growing their own food. The report draws together key learning outcomes and highlights best practice for those interested in this very worthwhile area of work.
Return of the turkey twizzler?

Food for Life Partnership

A report that focusses on how government cuts could jeopardise the progress made in transforming the food culture in schools and the links now being made between food and education. As well as highlighting some of the key concerns the report outlines what actions might be taken to protect progess made to date.
Learning Outdoors - everyone's included!

National Association of Field Studies Officers (NAFSO)

A new 32 page report that shares examples of best practice for promoting inclusion of all young people in real learning opportunities in school grounds and outdoor environmental centres.
Global learning in schools: a review of what works

Think Global: The Development Education Association

A new 36 page report that draws insights from existing literature, practitioners, academics and others who are closely involved in global learning in England to explore what constitutes effective practice for global learning.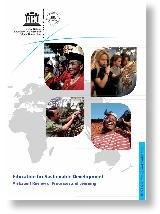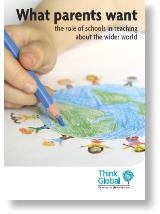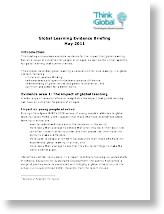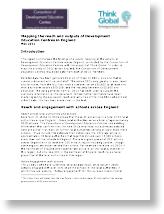 Subject to Change

Pearson Centre for Policy and Learning

Primary education is always a political hot potato. The new coalition government has already announced a swathe of measures aimed at improving teaching and learning in primary schools... This has disappointed some primary teachers, many of whom had enthusiastically embraced the Rose Review and, in some cases, already started to implement it in their schools. Many primary teachers are sceptical about what they see as a secondary model of subject-based teaching, tending instead towards a more integrated, cross-curricular approach.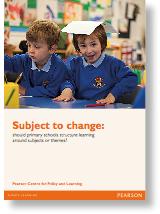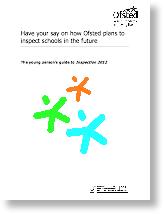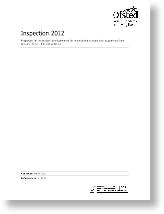 Welcome to our CPD resources pages.
These pages share resources designed to support the continuing professional development (CPD) of teachers, advisors, consultants, youth workers and community leaders.
They are taken from a wide range of sources and include a mix of case studies, policy documents and learning/pedagogical approaches. Many are contributed by our membership. As with elsewhere on the website we will do our best to guide you to the most appropriate resources for your needs by using the key to the right to categorise entries. We will add to this key as new resources are added.
At present these resources are simply listed as added with the newest at the top, but as this bank grows we will introduce greater functionality to the pages to allow you more efficient access to what it is you are looking for.
If you have content you think should be on these pages or have any feedback as to how we could improve them then please contact us.
Happy browsing...

The Common Cause Handbook

A Guide to Values and Frames

This concise report share some of the current thinking around the area of values and frames that is increasingly influencing policy makers, NGOs and others in a wide range fo fields. Though the work has been around for many years in different places, the coming together of several national bodies to promote the idea of 'common cause' has given it a new impetus.