DE - Derby and Derbyshire

GL - Gloucestershire

LE - Leicester and Leicestershire

LN - Lincolnshire

NG - Nottingham and Nottinghamshire

NN - Northamptonshire

ST - Staffordshire

WA - Warwickshire

WM - West Midlands (Bham/Coventry etc)

WO - Worcestershire

UK - National Provider

The Leicester Masaya Link Group is a non-governmental organisation which manages the town-twinning link between Leicester and Masaya in Nicaragua.
LMLG also contributes to the provision of development education and global awareness raising across all sectors of the community, by organising exchange visits, cultural activities, projects in schools, speaker meetings and other public events in Leicester.

MUNDI is a Nottingham based Global Education Centre. Our mission is to promote education in global development issues and active citizenship towards a more equitable and sustainable world.
Derbyshire Environmental Studies Service provide environmental education opportunities for Derbyshire schools through programmes of classwork, fieldwork and training opportunities in a variety of locations and settings across the county.
CLICK HERE for more information and contact details.
The main aim of the Trust's work is 'A living landscape rich in wildlife, valued by everyone in Derbyshire'. The People and Wildlife team works with schools to build on this philosophy by encouraging children to appreciate and protect wildlife in their school, in their community and in their own garden.
CLICK HERE for more information and contact details.

Why not contact us to book a FREE outreach session run by a member of our Education team? Our outreach programme includes talks, group activities and workshops, school assemblies and attendance at community events within our region. All we ask in return for the session is that you use water wisely and help us look after your waste water. Severn Trent work with schools, colleges, universities and communities. CLICK HERE for more information

Learning 2B Sustainable is a specialist consultancy established to help schools get started on their sustainability journey.
CLICK HERE for more information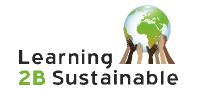 The providers in this listing are listed alphabetically by region with national providers (all regions) as a separate category at the top.
As the list grows we will introduce more user-friendly access methods to limit the need to scroll. The listings are categorised using the key to the right.
Lifeworlds Learning work regionally and nationally providing projects, courses and resources to inspire critical learning and strategic creativity. They work across all levels and cover many initiatives. Clients include UNESCO, National Literacy Trust, Schools Linking Network, and several universities, authorities and schools. They specialise in bespoke services and as a community interest company their profits are reinvested into supporting learning communities including the management of this website.


The Link Schools Programme from Link Community Development provides schools in the UK with the opportunity to link with a school in one of several African nations. Once linked the programme supports the schools to develop their link through shared resources and planning, co-ordinated communications and training for the staff involved. Click here to find out more.